Pepperoni is for assholes and idiots.
Is there anything more disheartening than chipping in for a pizza at a party, only to find that every single one is either pepperoni or plain cheese bullshit? The answer is yes. Getting shitty toppings on a pizza doesn't matter that much. But neither does half the shit you care about, including whatever shitty Buzzfeed topic you and your lame-ass friends are discussing on Facebook. In fact, unless you live in Syria, Egypt or Brazil, you're probably not complaining about anything that really matters to anyone anyway. So back to pepperoni. Pepperoni is the vanilla of pizza toppings. It's supposed to please everyone, yet pleases no one. It's like having a bunch of indecisive friends who won't suggest anywhere to eat when you want to go out, but they'll bitch about wherever you choose, so you'll end up going to TGI Fridays—the epicurean equivalent of a throat rash, and guaranteed to make no one happy. Speaking of, the case against pepperoni:
I mentioned it briefly in the video, but the other shitty pizza everyone seems to get is plain cheese. The minimum requirement for your food item to even be considered a pizza is:
1. Crust
2. Sauce
3. Cheese

Remove any of these ingredients, and you're left with nothing. Don't email me about all your fancy pizzas with no sauce, or no cheese or whatever vegan bullshit you eat. That's not what most people think of when they say "pizza." Pepperoni is only one step above plain cheese, but that's like saying stubbing your boner is slightly better than slamming it in the door. Yes, it's exactly like that. Fuck I rule at similes. And yeah, I just congratulated myself in my own writing. I'm tired of all you idiots pointing out how I "like" all my own Facebook statuses. No shit? Why wouldn't I? I run a website called "The Best Page in the Universe." I love myself, including—and especially—my writing. Every time I meet someone who claims to be my biggest fan, I know they're lying because I'm my own biggest fan. So yes you wimps, I "like" my own statuses. And I know it's like high-fiving yourself, and I do that all the time, too. I'm the best. As for pepperoni, it doesn't even exist. It's a made-up American topping. The word "pepperoni" means peppers in Italian, so if you go to Italy and order a pepperoni pizza, they'll bring you a pizza with peppers on it, then they'll ask you to leave the restaurant, and then their country. Go home.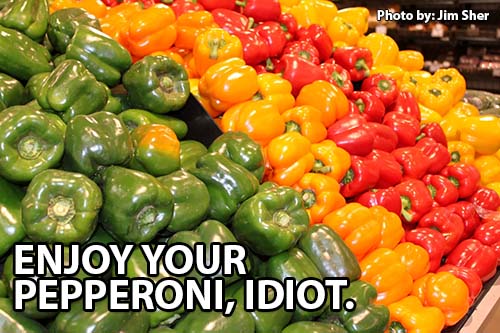 Despite the impression you might have to this point, I've actually had some "pepperoni" that didn't suck dick full time. It was home-made and cured without sodium nitrite, and brined in Tabasco. So basically, it wasn't pepperoni. And not-pepperoni is the best kind of pepperoni.

460,638 slices of pepperoni were consumed by idiots in the time it took for you to read this sentence.