I hate Orbitz. I saw a new Orbitz commercial the other day that reminded me of how much Orbitz blows. The new commercial features a chorus of blue, zombie-like assholes singing along with an announcer who talks about how supposedly low the airfare is on Orbitz. A woman in the commercial considers going to Orlando, and the chorus pipes in "DON'T THINK TWICE!" Then, she decisively says "I'm going to Orlando!" At one point in the commercial, a character says "but who will feed my fish?" Suddenly the chorus booms in "DON'T THINK!"
Yeah, that's exactly what we need: more consumers thinking less. Don't think, just spend! Tell you what assholes, I'll think all I want. Take your stupid jingle, spontaneous consumerism, and creepy blue zombies and shove it. My beef with Orbitz stems from a $94 dispute I had with them that will become the most expensive $94 Orbitz will ever make.
I was booking a ticket a while ago and decided to try Orbitz instead of Travelocity or Expedia for a change. I was connecting in San Francisco for an international flight, and found two tickets that were almost identical, except one cost about $30 less and had a stop in San Jose. I figured that the extra stop wouldn't make a huge difference, so I might as well save some money.
WRONG.
After I booked the ticket, I noticed something strange: there were no travel details on how I would get from San Jose to San Francisco. I called Orbitz and they told me that I would have to provide my own transportation from San Jose to San Francisco. What?
So I did some research and found the following:
| | | |
| --- | --- | --- |
| 9:35 AM | - | Flight arrives in San Jose, California |
| 9:50 AM | - | It takes up to 15 minutes to exit the plane and collect luggage. |
| 9:55 AM | - | Up to 5 minutes to hail a cab or shuttle. |
| 10:45 AM | - | Up to 50 minutes to travel to San Francisco with heavy morning traffic. |
My flight departed San Francisco at 12:45 PM (corrected), so I should have had plenty of time, except for one major detail: YOU NEED TO CHECK IN AT LEAST 2 HOURS EARLY FOR INTERNATIONAL FLIGHTS. This isn't even taking account the time it would take to get through long lines and security. Orbitz made a mistake: they sold me an impossible itinerary. Having a delayed flight was not an option because I was on a tight schedule. There was no way I was going to miss this plane.
So I called Orbitz back, they told me to call Delta and United. I did, and I spoke to managers at both Delta and United who confirmed that the itinerary was impossible to fulfill, and both of them referred me back to Orbitz. Before I called to tear Orbitz a new one, I checked the fine print of my itinerary to make sure it didn't mention anything about having to break the laws of physics for all or part of my trip. The email notification made no mention of this either. My conversation with Orbitz went something like this: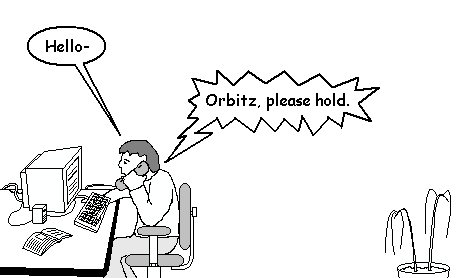 20 minutes later: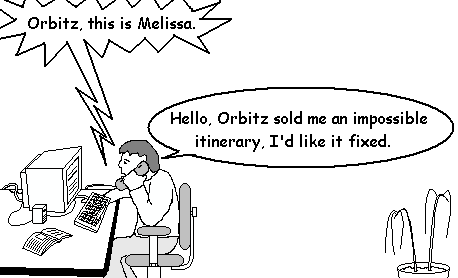 Orbitz flat-out refused to help me. So I ended up having to buy a one-way ticket to San Francisco for $144 just so I could make my flight on time. After numerous complaints to customer service, I finally got a response about a month later: Dear valued customer, blah blah blah, we don't really give a shit about your plight, so here's a slap in the face in the form of a coupon to save $50 off your next flight with Orbitz.
No. Not good enough. I shouldn't have to pay 1 cent extra for their mistake. I wrote back and told them that I wanted the full $144 refunded and they never responded.
I will never do business with Orbitz again, and neither should you. Here are just a few of the thousands of emails I've received in the last couple of days:
---

Hi, Maddox, I decided to help the cause and I wrote an e-mail to Orbitz to let them know that I will never use their company because of the story you posted on your site.

-A

---

I have contacted Orbitz and let them know they will recieve no service from me, friends, family, or peers.  Thanks for the entertainment over the years.

-Mike

---

Sent to Orbitz:
Just letting you know that because you ripped off Maddox, I will NEVER use your service.

-Mike, Sarasota, FL

---

I won't use orbitz any more either. I booked a flight for my husband and I to fly from Cincinnati to Boston for a friends wedding. A few days before the flight I got check and make sure no flights have been changed and corirm plans and that is when I noticed they booked both tickets under my name! I was pissed off!! Orbitz refused to do anything and basically said too bad. I had to use my frequent flyer miles to get my husband another ticket. I then proceeded to find the CEOs of Orbitz telephone number using the wonder of the internet. I called every day and left a message and had my friends do the same for me. Eventually my money was refunded. I guess someone getting paid big sacks of money with dollar signs on it decided that giving my my $150 back was better than dealing with my bitching every day into his voice mail.

Melissa

---

Hey maddox,

I read your new article about orbitz. I'm pretty surprised you didn't mention orbitz' involvement with spyware companies (I believe comet cursor but possibly others.) They're a pretty sleezy company all around it seems, so I'm not too surprised they'd pull shit like they did to you. They're not getting any of my money that's for sure.

Jordan

---

I haven't written to you before, so I hope the first impression I make is good enough for a response. My father is a businessman who travels about 3 times a week to many different cities across the nation, and he has used orbitz almost every time he travels. I am proud to say through my encouragement, and him seeing that not only he can be screwed by such a fraudulent company, Orbitz will not be used by him, or his company as far as he sees fit. I know theres a 90% chance you don't give a shit, but just to let you know there are people out there who still like to see some civilian justice thrown down.

Mike

---

Sent to Orbitz:
I don't know how else to forward this message, seeing as your site is irreparably impossible to navigate - but I wanted to inform the proper officers in your company that the customer service is - although not experienced by me directly - seriously flawed. Upon reading an article written by maddox (http://www.thebestpageintheuniverse.com) , an associate in the company which I work for, I pledge to never conduct business with your company, and will reccomend that my peers do the same. I hope you will read his article, seeing as your company has decided it proper to ignore his correspondence, and award him the refund he rightfully deserves. Thank you, have a nice day.

-Jon M.

---

We too got ripped off. After sending the information on when we'd like the flight at Orbitz, we got a new screen showing us what our tickets looked like. And what do you know? IT HAD THE WRONG DATES IN A DIFFERENT MONTH. No question on us putting the dates in correctly--there was two of us filling it out.

...So we called. And they told us we have a faulty browser or something is wrong with our internet. Right. Definitely our Internet Explorer is faulty, and we are definitely the only people who use it. Or is it our internet service provider who is to blame? Yup, you guessed it: no refund.

-TB

---

Orbitz fucked me over too:
I booked well in advance tickets from Rochester, NY to San Diego, CA.  400 whatever dollars who gives a fuck.  A few days before the flight I check the Orbitz site to get my eticket code and come to find out... MY TICKET HAS BEEN CANCELED.

Why?  The connection time was under 40 minutes.

Pretty stupid of me right?  WRONG.

I typed in Rochester, NY I typed in San Diego, and then the days... and then Orbitz GAVE ME those flights with the under 40 minute connection time.  THEY TOLD ME to make those flights and didn't let me know that I needed a longer connection time.  Not when I purchased the tickets, and not even by email to let me know there was a problem.

So I had to purchase the tickets all over again, but since it was two days before the flight it cost three times as much.

A call to customer support gave me the same bullshit you went through.  The stupid broad actually had the nerve to tell me, "You need to be your own travel agent."  I swear to fucking God if I haven't seen Orbitz listed under a million different "online travel agents" directories.

I will never book with Orbitz again and applaud your efforts to bring down that sham of a company.

-Steve

---

Sent to Orbitz:
I am 23 years old and a college student at Western Michigan University. My friends and I travel to the western states alot, since we are avid rockclimbers. We were making plans for a trip to Arizona this summer, and were considering Orbitz. After reading about one of your previous customer's unpleasant experiences with your company, and your refusal to compensate for his troubles, my friends and I decided that we did not want to take the risk of having an experience as troublesome and unenjoyable as his. After hearing about your unwillingness to rectify the situation to the customer's satisfaction, we've decided to go with another company.

I am writing this letter to let you know, that in not willing to pacify one customer's complaints to his liking, your company has lost the business of 5 customers who regularly travel, and several other potential customers.

---

I just wanted to let you know that I informed Orbitz that I would not ever be a customer of theirs. Thanks for letting us know about this bullshit.

Jake

---

Ive been reading your site for a while and never felt compelled to email you until this day. As a semi-frequent air traveller your article about Orbitz really hit hard with me. I sent them an email telling them how I came across your story and how I would never do business with them and encourage others to do the same. I hope your crusade against asshole customer service and misleading advertising strikes them as hard as i think it will.

Tim

---

I completly agree with you about orbitz...those assholes need to treat their customers a little better...i have also lost money with them and got completly screwed..and just like you i got nothing in return. I hope your site helps out those of us who got completely fucked from them!!!

---

I'm planning a trip to LA (from NY) in May for the E3 event. Not only will Orbitz be losing my business, but they will also be losing the business of everyone that's going with me. They've lost thousands of dollars from you to me to my direct friends alone.

I sent them a nice E-mail to wrap things up.

-ngamer

---

Maddox,

Upon reading your new post regarding Orbitz, I decided to email them to inform them that not only will I never do business with them in my entire life, I will make sure that everybody I know does not even consider Orbitz as an option to plan any future travel. Even though I have never used Orbitz before, they are forever out of the question as an option in my mind. On that note, NEVER underestimate how many people will support you on these kinds of things.

You're still a dick though.

-Brett

---

Sent to Orbitz:
Please forward this on to anyone left at your company who cares about the customer. I've decided to stop using Orbitz altogether after reading about how you sold someone an impossible itinerary and then refused to provide them with a refund. I simply can't take a chance that you'd do that with me.

-Jeff

---

After reading your most recent article I decided I would send orbitz an email.  Well, I will just inform you of their responses.  I wrote them this :

I am just informing you that I and many others will never use Orbitz again and the $144 dollars you screwed this guy out of will not go unmentioned.  You have lost thousands of dollars of business.  He has a big crowd.  Summary: you fucked with the wrong person. Here's a link to his site and the page that he describes his problem with you.  By the way, at any given time his site has 120+ people visiting it. http://www.thebestpageintheuniverse.net/c.cgi?u=orbitz_blows

They responded with this:

Dear Orbitz Member,

Thank you for contacting Orbitz.

Orbitz is a customer friendly website and our customers are most important to us. Whenever Orbitz learns of an error that has occurred at our end, we take immediate action to rectify the same. We have forwarded your feedback to the appropriate department.

We value you as a customer and look forward to serving you again in the future.

Sincerely,

Tanya
Orbitz Customer Service
By the way, several people have forwarded their response from Orbitz to me, and most of the responses use the same form letter with different names. I've received one from Angel, Tanya, Jenifer, Soniya, and Mandy thus far. It appears that they all type the exact same response, right down to grammar, punctuation, and spelling. I have to hand it to Orbitz for hiring such amazing doppelganger employees.
Enjoy the $94 you assholes, I hope it was worth it. Take note AT&T, Verizon, Qwest, Adelphia, Comcast, etc. Take note and think twice next the next time one of your dumbass representatives haggle with someone over a $20 charge. Is the struggle worth it? Are the few dollars being disputed worth the potential loss of business your company will receive permanently? The bottom line is: lose a few dollars here and there to make your customers happy, or lose your customers forever.
It's time to send a message to these companies so they can hear us loud and clear: if you're tired of being dicked around by shitty customer service agents and piss-poor service, tell them, then tell a friend or two. Hit these bastards where it counts.
Update 03-09-05
This is the new form letter Orbitz is replying with to people who send them emails regarding this page:
Thank you for your recent e-mail regarding the comments about Orbitz.com which you saw posted on Maddox's website, http://www.thebestpageintheuniverse.net. We understand your concerns and want to address them in this email.

The problem Maddox describes took place approximately three (3) years ago in May of 2002. As a travel agency, Orbitz displays flight schedules and itineraries obtained directly from the airlines. Each itinerary that we sell meets airline requirements for appropriate "minimum connection times", including the flights purchased by Maddox.

In his message, Maddox takes great pains to detail his itinerary, but there are significant inaccuracies in the information he provides. He made the point that he was scheduled to arrive in San Jose at 9:39 am and depart from San Francisco at 12:00 noon. His flight was actually scheduled to depart at 12:45 pm so he had a total of 3 hours and 6 minutes to connect to the other airport, as opposed to the 2 hours and 21 minutes he claimed. Regardless of the fact that Maddox's flight connection was valid, Orbitz offered him a $50 travel voucher as a gesture of goodwill when we were notified of his concerns.

We truly regret Maddox's disappointing experience from three years ago and any concerns it has raised with our valued customers today. Orbitz elected to change its policy last year to no longer display inter-airport connections, so Maddox's experience is unlikely to happen to travelers who book with Orbitz today. We've made many other upgrades to our website over the past few years and have been recognized by third party industry organizations for our consumer friendly web site and Customer Care program that offer travelers unique value.

We welcome our customers to share feedback on disappointing and positive experiences with our company as we continue our commitment to providing a superior web site and travel experience. Thank you.

Sincerely,
Orbitz.com
Hey, good point Orbitz, except that having 3 hours and 6 minutes to "connect to the other airport" is misleading because I don't need to simply "connect," I need to check in at least 2 hours before my flight, so even if I have 3 hours and 6 minutes, I have to spend 1 hour and 10 minutes to get there, meaning the earliest I could check in would be 10:49 AM. Not to mention the time it would take to locate and walk to my terminal, check in my luggage, and stand in line. This is assuming there are no further airline or traffic delays. By the way, when I actually did get to SFO, I waited in line for 15 minutes.
Here are a few responses from people who have received the new form letter:
I just read the email Orbitz sent out to everyone who sent complaints about your trip. Just out of curiosity, did Orbitz promise when you got the tickets not to share your travel information with anyone? Because if they did, wouldn't that email be a superbad breach of customer privacy?

Max

---

Dear Orbitz,

If you hadn't lost my business yet, your last email did. Although Maddox posted his story online you gave me specific details of his schedule that I had not brought up in my email. So in the interest of privacy I am afraid I can no longer feel secure in making business transactions with your company.

Josh

---

Orbitz, Regarding your Maddox transaction and your subsequent email:
The extra 45 minutes Maddox had that he didn't include did not make a difference, and he had even confirmed that his itinerary was impossible with the airlines.

And sharing information that is supposed to be private with scores of people via email is enough to convince me to never use your site. It doesn't matter how long ago Maddox made the transaction because it was never resolved. The least you could have done was refund an impossible itinerary, but in the interests of what it all comes down to - money- you did not. Good job.
You know, the most ironic thing about all of this is that Orbitz holds the key to ending this barrage of negative attention with one simple act: an apology. Let's recap:
Orbitz lost me as a customer over a $94 dispute.
Orbitz lost more customers as a result of negative word-of-mouth.
Orbitz spent time to craft a custom letter to respond to people who read this page.

It seems like Orbitz will spend time doing anything and everything EXCEPT apologizing to me. Of all the emails Orbitz has sent out over the last couple of days, the one person they still haven't emailed is me. So how about it? A simple, sincere apology from a manager, and I'll put this issue to rest. The ball is in your court, Orbitz.

Update 03-14-05

I got an email from Orbitz. I wasn't convinced this was genuine until I read the last line:
Hello Maddox,
This is Orbitz.

I'm so sorry.

Sincerely,
Orbitz

P.S. I Am Orbitz
There you have it. It's settled.
3,124,438 people have boycotted Orbitz due to their shitty service.
Back to how much I rule...
•
New Book
•
Store
•
Email
•
Patreon
•

•
© 1997-2017 by Maddox